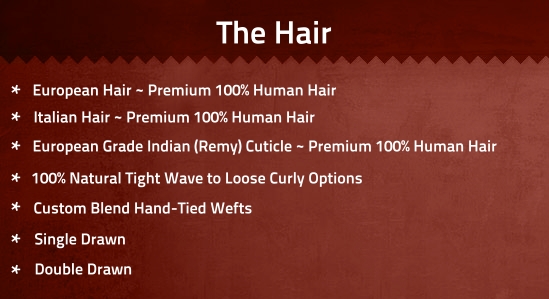 * Film Line: 100% Russian Virgin,Premium Silky ~ Simply The Rolls Royce, The Black Label of Hair Extensions.
* Film Line 100% Russian Virgin Hair arrives with a Certificate of Authentication verifying its origin and quality. This superior quality of meticulously hand selected hair previously has been traditionally kept exclusively for the film industry and is only now finally available commercially.
The Quality
The Hair Extension Expert features exclusive custom hair pieces individually hand crafted by specific order with meticulous care by the most experienced artisans in the country.

Your custom piece will be designed with hair you select from the origin of your choice. Your new piece will be constructed of hair from one specific donor of your choice, and your desired materials discussed and determined at the consultation which makes it the ultimate of custom exclusivity. Built to fit for natural comfort, Custom Creations take a minimum of 6 weeks for completion followed with a most thorough inspection and the highest of quality control. Rush ordering is available. From the beginning of placing your order to receiving it, the average time is 10 to 12 weeks.

Many clients want to know if their own hair can be used in the making of their piece, and yes, it can! Wearing a custom creation made with your own hair, or someone close to you who cares, is very special and comforting.
Product Line Through Hairline Illusions™
Since developing the world's first lace frontal, Hairline Illusions ™ has rapidly grown to become a major respected wig building company in America. Hairline Illusions™ manufactures, distributes and markets high-end hair alternatives and styling products to consumers -- bringing the promise of a better quality of life, offering hair systems that are not obvious!

Hairline Illusions™, Hair Alternatives offers premium undetectable systems with the choice of nine rare textures collected from Ethiopia, Nigeria, Egypt, India, Russia, Brazil, Malaysia, Dominican Republic, Peurto Rico, Mexico and USA. They combine the most innovative technology with exclusive craftsmanship in order to give you the most natural and comfortable human hair wigs. They are simply the best and a treasure to own!

For more information about Hairline Illusions™ please visit: www.HairlineIllusions.com
Product Line Through Follea™
If you are in the market for a more timely acquisition of a wig or hairpiece The Hair Extension Expert is also a certified Atelier for Follea™ of Beverly Hills.
In the on-going quest to provide the highest quality services to my clientele, I am excited and proud to announce my new affiliation with Follea™ of Beverly Hills, maker of one of the world's most beautiful natural human hair creations.
As one of Northern California's exclusive certified Atelier for Follea™, The Hair Extension Expert offers a complete natural hair collection including "beauty wear" custom hair, natural wigs integrations, clip-ins, fringes (bangs) and top pieces as well as custom work of the highest quality.
Follea™ imports only the finest hair from Europe and other top quality sources of fine, natural hair. The hair comes in 30 radiant base colors prior to any high or low-lighting process. They work with the hair to create the most lifelike finish challenging all existing industry standards.
Follea™ doesn't hire "workers" or "staff" they train artisans who perform diligently with an eye for perfection. Their colorists require a two year training program and they have over 60 people who specialize in their unique TruLife™ precision coloring process. Follea's quality control regimen requires eight steps by thirty highly-skilled people. They employ section chiefs to oversee each step and everyone from the CEO to their receptionist knows, respects and LOVES hair.
Follea™ is capable of customized hair creations with many different types of styles, colors, textures, densities and unmatched quality. Their artisans are meticulous and fully committed to achieving excellence in each and every piece they create.
From the hair's origins to the natural look and feel of the finished product, Follea's exacting specifications and processes ensure the finest, most reassuringly undetectable hair creations available.
Please call to schedule a consultation to see and feel this superb hair for yourself.
For more information about Follea™ please visit:
www.Follea.com
Claiming to be the best might seem bold but I invite you to look and feel my hair and judge for yourself. The luster, shine, lightness and manageability of custom creations and Follea's creations are most convincing, allowing you to experience the highest form of natural beauty.
The Hair Extension Expert proudly uses and promotes the use of Rare El'ements™ hair care products.
The inspiration for Rare El'ements™ began in Beverly Hills California, where the world's standards are set for beauty and luxury. Rare El'ements™ International Hair Collection is the result of partners John Amato and Teri LaVerne's 18 year odyssey as owners of one of the top salons in the upscale environs of Beverly Hills.